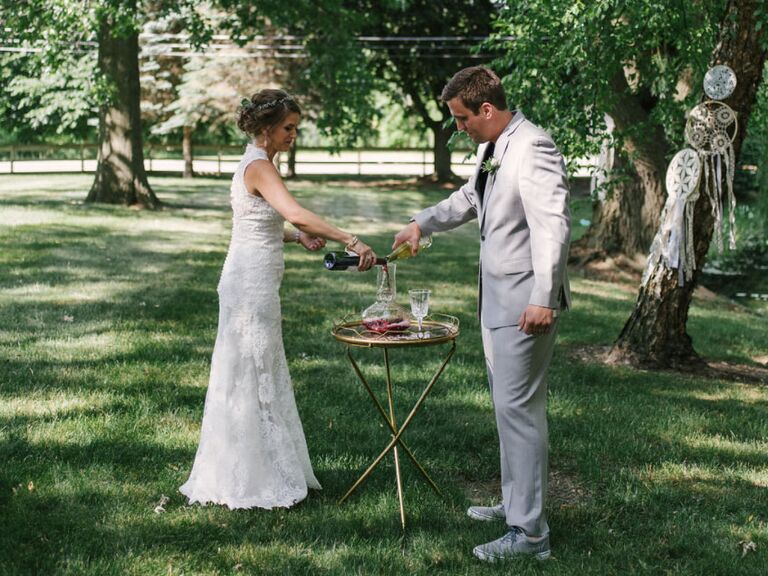 When Shannon Emmons married Lucas Daniels on Cavanaugh Lake in Chelsea, Michigan, every detail, from Shannon's loose, bohemian updo to the sprigs of dried lavender tucked thoughtfully into each invitation, came together to make their nearly 300-person celebration feel as inviting and relaxed as an intimate get-together. The couple's efforts didn't stop with their décor and attire either—the ceremony was complete with the coolest spin on the unity candle we've seen since this awesome beer pouring ceremony. In lieu of a unity candle, Shannon and Lucas decided to mix things up—actually, they decided to mix a bottle of red wine and a bottle of white wine to create their own unity rosé. Okay, how did we not think of this before?
The idea came to them while brainstorming different ceremony ideas that felt special to them as a couple. "Our sister-in-law told me her dad had [once] used a bottle of white and red to make a mixture similar to rosé," Shannon tells The Knot. "We immediately loved this idea and thought it would be perfect for us!"
Next, they had to choose the right bottles for the job. The couple landed on a cabernet sauvignon and a Riesling from Two Vines. "We loved that [Two Vines] had roots and intertwining branches on the label," Shannon says of their wine selections. "We hadn't tried it before, but wanted to do something different and thought it would be fun to make a blend."
The bride and groom shared sips of their newly poured rosé during the ceremony, then planned to savour the rest of it on their one-year anniversary—but that didn't last long. "We planned on drinking it a year later on our anniversary, but toward the end of the night we decided to drink it with our closest friends and family," Shannon says. Who wouldn't want to try the newlywed's unique rosé blend?
Not only did Shannon and Lucas find a deeply personal unity ceremony alternative, they also inspired other couples to take a chance and have fun with their own ceremonies. "A lot of the guests thought it was a great idea and a fun spin on an old tradition," Shannon says. "Some guests told us after the wedding that it inspired them to create their own unique unity ceremony."