Because you might as well turn the registry process into a full-on party. (Did somebody say mocktails?)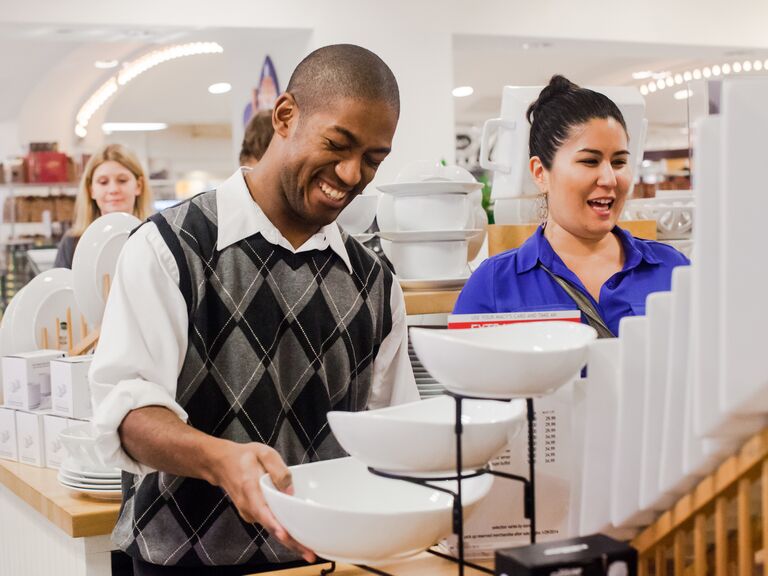 Sure, you can start your registry online, but isn't it more fun to see—or even try out—all those items in person first? That's what makes wedding registry events so great. They're basically parties where you get to hang out with your fiance, have one-on-one time with store experts and sip on some drinks. To make finding an event near you even easier, we rounded up our favorites below.
Tupperware
On of the things most brides miss is the simple things, like bowls, storage containers and other kitchen gadgets visit Tupperware online or call 973-220-9400 for an inperson introduction to the products and yes Tupperware still does home parties if you want to earn a full kitchen of products for your bride for FREE yes Free!
Bed Bath & Beyond
Mark your calendars for Bed Bath & Beyond's Rock Your Registry events, special nights where you can open or add to your registry with the help of the store's registry consultants. Ask questions about entertaining, plus pick up new tabletop and bar decor tips while you snack on light bites. You'll score a free goody bag filled with surprise treats too!
Macy's
Register for Macy's Sip & Scan events, then breeze through the store with a mocktail in one hand and a scanner in the other. The store's registry advisers and brand experts can help you decide on the perfect items. Don't forget to hit the hors d'oeuvres platters, because who can concentrate on shopping when they're hangry?
Bloomingdale's
Couples can attend a variety of events at local Bloomingdale's stores, including the expo-like Pre-Wedding Wedding Party. Meet with local wedding vendors and watch live demonstrations of top products while enjoying light refreshments and entering raffles for prizes. Other events include intimate brunches and small cooking classes designed to help you try out registry items before committing.
Crate & Barrel
Check your local Crate & Barrel store for the schedule of its Private Registry Events, conveniently held on weekend mornings and weekday evenings. Get tips from the store's registry experts, mingle with other couples and enjoy refreshments with your significant other while shopping. Watch demos of kitchen gadgets from national vendors, and even snack on free samples. At the end of the event, you'll walk away with a goody bag that includes a pair of Crate & Barrel's best-selling stemless wine glasses.
Williams-Sonoma
At monthly Sunday morning The Store Is Yours events, chat with in-store pros, snack on complimentary light bites and beverages, and check out product demos while you decide what to register for. If you end up receiving an item that you're not quite sure how to use, remember to take advantage of the store's Return To Learn program. Customers can come back later for a tutoring session on any product received from Williams-Sonoma.
Sur La Table
Score a little one-on-one time with Sur La Table's expert staff at their Signature Sunday Gift Registry Events. If you'd rather sleep in, no problem! You can set up a private walk-through with a registry expert to test out the merch and ask questions.
The Knot and Calphalon present Upgrade Your Life, a sponsored series full of tips and inspiration to help you elevate your registry, your wedding—and your cooking skills! Visit Calphalon to learn more about the latest cookware collections.