These couples began the New Year as newlyweds and we loved every moment of it.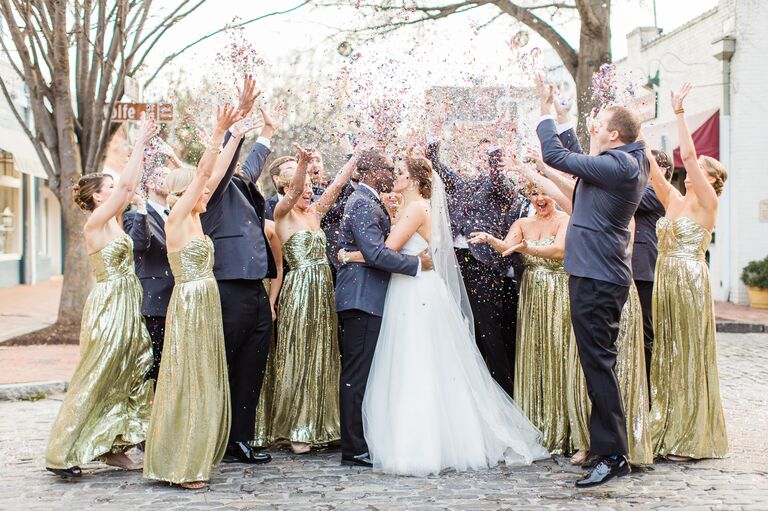 PHOTO BY
ROBYN VAN DYKE PHOTOGRAPHY
From the extra-special kiss at midnight to festive party props, New Year's Eve weddings require little décor and come with an even bigger excuse to party until the wee hours. Plus, how cute is it to wake up as newlyweds on the first day of the New Year? Count down to the end of December while enjoying the below New Year's Eve wedding photos from real couples.
From: A Glam New Year's Eve Wedding at Renaissance Raleigh North Hills Hotel in Raleigh, North Carolina
From: An Urban-Meets-Great Gatsby New Year's Eve Wedding at Cobblestone Hall in Raleigh, North Carolina
From: An Intimate New Year's Eve Wedding at Tamayo in Denver, Colorado
From: A New Year's Eve Wedding at the Madison Hotel in Morristown, New Jersey
From: A Festive New Year's Eve Wedding at Tundra Lodge in Green Bay, Wisconsin
From: An Elegant New Year's Eve Wedding at The Henry Ford Museum in Dearborn, Michigan
From: A Glam, New Year's Eve Wedding at Trolley Square Waterfront Banquets in Appleton, Wisconsin
From: A Glamorous New Year's Eve Wedding in Islamorada, Florida
From: A Glamorous New Year's Eve Wedding at The Fair Barn in Pinehurst, North Carolina
From: A Sparkly New Year's Eve Wedding at Contemporary Arts Center in Cincinnati, Ohio
From: A Vintage Art Deco Wedding at Bimbo's 365 Club in San Francisco, California
From: A Glass Houses Wedding in New York, New York
From: New Year's Eve Wedding at Cruiseport Gloucester in Gloucester, Massachusetts