Bring out the best of the winter season at your cold-weather wedding with these festive, cozy cocktails!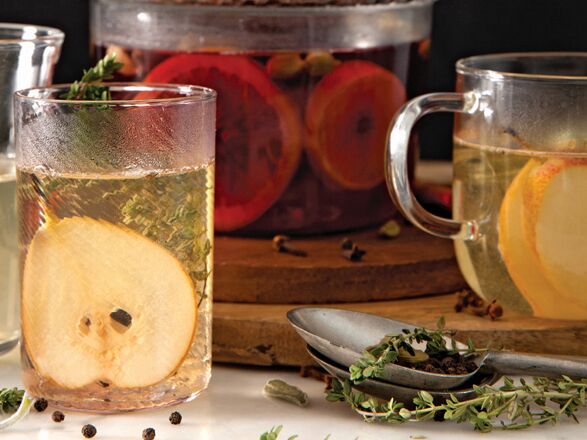 From hot buttered rum to molten Nutella, we've laid out our favorite winter wedding cocktail recipes for you to steal! Whether you make them for your engagement party, welcome party or reception (or just for yourself after a long day of planning!), check out these delicious, decadent and festive beverages that will get everyone in the spirit of the season.
Buttery, sweet (but not too sweet) and infused with fresh vanilla beans, this warm treat is the ultimate winter comfort drink.
What You'll Need:
6 ounces dark rum
3 cups hot water
For the Vanilla Bean Butter:
4 tablespoons unsalted butter, at room temperature
1 vanilla bean pod, seeds scraped out, pods reserved for different use
11⁄2 tablespoons packed dark brown sugar
Pinch salt
Pinch ground cinnamon
Pinch ground mace
Directions:
For the Vanilla Bean Butter: Vigorously mix ingredients together in a medium bowl. Set aside until ready to use. If making in advance, store in a small bowl wrapped in plastic, refrigerate, and then return to room temperature before using.
For the drinks: Stir together rum and water. Place 1 tablespoon Vanilla Bean Butter in each of 4 warmed cups. Pour rum into cups. Serve and enjoy.
There are only a few things Nutella can't fix, and it's nearly impossible to make it better. But we may be onto something: Upgrade this irresistible chocolate-hazelnut spread with dash (or two) of hazelnut liqueur to create an ooey-gooey grownups-only indulgence.
What You'll Need:
4 cups whole milk
1/4 cup Nutella
Pinch salt
6 ounces hazelnut liqueur, such as Frangelico
1 cup heavy cream, chilled
1/4 cup confectioners' sugar
2 teaspoons instant espresso powder
1/4 cup toasted hazelnuts, chopped, for garnish
Toasted coconut flakes*, for garnish
*To toast coconut flakes, arrange them in a single layer on a rimmed baking sheet and bake in a preheated 350°F over for 7 to 10 minutes, stirring halfway through baking, until toasted. Alternatively, toast them in a large dry skillet over medium heat, stirring occasionally, until golden, 5 to 7 minutes.
Directions:
Bring milk, Nutella, and salt to a simmer in a medium saucepan over medium heat, stirring until Nutella is completely dissolved. Stir in liqueur. Turn off the heat but leave the pot on the stove while you whip the cream.
*Using an electric mixer, beat cream, confectioners' sugar, and espresso powder on medium speed in a large, chilled bowl until soft peaks form, 2 to 3 minutes. (Alternatively, beat by hand using a large wire whisk.) Ladle drink into warm cups and top with whipped cream. Sprinkle with hazelnuts and coconut.
Cooking Tip: The most efficient way to remove hazelnuts' unpleasantly bitter skins is to blanch them. Bring 4 cups water and ¼ cup baking soda to boil in a large pot. Add hazelnuts and boil for 5 minutes. Drain hazelnuts in a colander and rinse them under cold running water, rubbing them against each other until most of the skins have come off. Place hazelnuts in a clean kitchen towel (one you're not too attached to, because it will stain) and rub them with the towel to remove any remaining skins.
After removing the skins, place hazelnuts on a rimmed baking sheet and bake in a preheated 350°F oven until golden brown and fragrant, about 15 minutes.
Calling all sangria lovers! This mulled white wine mixture is brewed with fruit, spices, herbs and a kick of brandy. It's totally unexpected and seriously delicious.
What You'll Need:
2 teaspoons black peppercorns
2 teaspoons whole cloves
1 (750-milliliter) bottle white zinfandel
1⁄4 cup granulated sugar
1 small bunch sage
1 small bunch thyme
Rind and 2 tablespoons juice from 1 lemon
1 cup pear eau-de-vie or brandy
1 firm, ripe pear,* peeled, cored, and thinly sliced
*Any pear will do, but Forelle, a petite and dainty variety, makes for a lovely presentation.
Directions:
Place peppercorns and cloves in a medium saucepan. Stir over medium heat until fragrant, about 2 minutes. Add wine, sugar, sage, thyme, and lemon rind and juice and bring to a simmer over medium heat, stirring until sugar is completely dissolved. Reduce heat to lowest setting and simmer for 10 minutes. Strain mixture through a fine-mesh sieve into a bowl and discard solids. Return mixture to saucepan and stir in eau-de-vie and pear slices. Simmer over medium-low heat until pears are fork-tender but still retain their shape, 8 to 10 minutes. Serve. For a more decorative touch, leave the skin, seeds, and stems on the pears.
Oh Irish coffee, how we love you. Equal parts cocktail and dessert, it's toasty and nutty with a spike of good old Irish whiskey—has there ever been a more scrumptious pick-me-up? For the perfect (double) buzz, you need this boozy java recipe for your winter event.
What You'll Need:
Coffee, your favorite blend
Irish whiskey, Jameson should do the trick
Brown sugar
Whipped cream
Chocolate or cinnamon for topping (optional)
Directions:
Brew hot coffee and pour into mugs. Add a shot (1 ounce) of whiskey and 1 teaspoon of brown sugar (add or reduce depending on sweetness preference) into mugs of coffee. Finish with a dollop of whipped cream (can be your favorite canned whipped cream or homemade—see Nutella Melt recipe for homemade espresso whipped cream directions) and chocolate or cinnamon.
Sangria might be even better in the winter! This fruity red wine concoction is the spicy, earthy alternative to its warm weather counterpart. Its in-season crimson hue and sliced fruit is always decorative and gorgeous. And don't forget, this is perfect in the fall too!
What You'll Need:
1 bottle spiced red wine, such as Witches Brew from Leelanau Cellars
3/4 brandy
1 cup apple cider
1 cup diced apple slices
Directions:
Empty the bottle of spiced red wine into a large pitcher. Slowly add the brandy, then the apple cider. Stir, then add the diced apples to the mixture. Let the mixture sit overnight to intensify in flavor before serving.
Say that 10 times fast! The ingredients of this fabulous fusion cocktail, created by mastermind mixologist Christy Pope, creates a beautiful ombre effect that's almost as amazing as the drink itself. If your winter wedding is actually taking place somewhere tropical, you'll find this cocktail both festive and refreshing.
What You'll Need:
.5 tsp Green Chartreuse
2 oz. Tanqueray Gin
.75 oz. fresh lime juice
.75 oz. simple syrup
.5 tsp. pomegranate molasses
2 dashes Angostura bitters
Sprig of rosemary for garnish
Cranberries for garnish
Barware:
Tall, slim collins glass
Swizzle stick or extra long spoon
Ice bucket and scoop
Directions:
Measure ingredients into a Collins glass and top with crushed ice. Swizzle with a long spoon to mix drink. Add two dashes of Angostura bitters and top with more crushed ice in the shape of a cone. Garnish with a sprig of rosemary and a few cranberries.
Tip: Pope suggests serving it in an etched glass for extra panache and using mason jars, filled with extra toppings, so people can make the drink exactly how they like it.